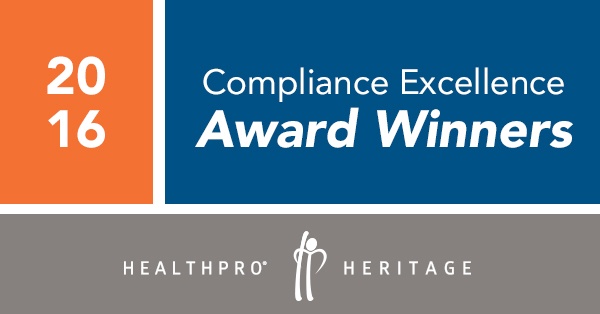 HealthPRO®/Heritage Announces 2016 Compliance Excellence Achievement Award Winners
Awarded for Commitment to a Culture of Compliance & Our Core Values
We are proud to present our Compliance Excellence Achievement Award to 25 teams across the country. We applaud the outstanding players who work tirelessly to safeguard the integrity of our company and to position our therapy programs for continued growth and success.
Regulation remains one of the biggest challenges an organization faces. The work that you, your teams, and our leadership do is more valuable than ever. HealthPRO®/Heritage's committed focus on compliance advocacy on evolving regulatory requirements is crucial to our ability to serve our residents/patients, customers, and industry. Fostering a culture of honesty and ethics is vital to our company's core value of integrity; one of the reasons why we are an industry-leader in issues related to compliance.
The Awards were given to facilities nominated by the QAC with the following criteria:
Quality documentation;
Adherence to policy and procedure;
Attended regular training opportunities;
Demonstrated an overall elementary ability to integrate the core values into everyday practice.
Congratulations to this year's winners! A big thank you to each and every one of you for the work you do every day. We value your ongoing support and commitment to our mission.

Sincerely,

Alissa Vertes, Chief Compliance Officer

John Heller, Chief Executive Officer

Paul Shaw, President


Check out our Facebook page for pictures of the winning teams receiving their award!
2016 Compliance Excellence Achievement Award Winners

Admiral at the Lake
Lake Marion
Skyland
Allendale Nursing Home
Lieberman
Spring Harbor at Green Island
Arbor Terrace Cascade
Martha Franks
St. Johnland
Barrington of Carmel
McCoy
The Plaza at Edgemere
Brethren Care Village
Memphis Jewish Home
Well Spring
Charlotte Hall
Merrimack
Wesley Manor
Fairmont Crossing
Nesconset
White Oak Waxhaw
Friends House
Ohio Veterans Home
Gainesville
River Landing