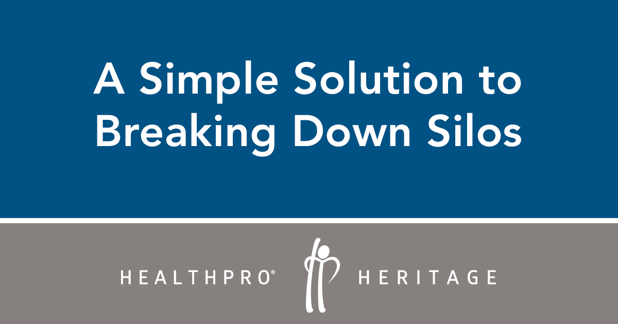 Still Struggling with Silos? One Solution is Simple.
HealthPRO®/Heritage recognizes that fundamental operational changes and care redesign are necessities for skilled nursing homes looking to fortify a strategic position within their regional provider network. One of the biggest obstacles to success relates to lack of interdisciplinary communication and coordination of care. In other words, many SNFs may still possess a "silo mentality."
Simple Solution to Breaking Down Silos: Clinical Grand Rounds
At HealthPRO®/Heritage, we understand that sometimes the most effective programs, although simple in concept, are not always easy to implement. Clinical Grand Rounds, a grassroots, patient-centric, evidence-based clinical approach is a perfect example of a simple, yet effective solution to tackling the common hurdle of silos in a SNF.
Clinical Grand Rounds Defined
Typically organized by the facility's Rehab Team, Clinical Grand Rounds take place at regular intervals (e.x.: once per week; once per month) and require a representative from several departments to meet at a resident's bedside. While it should be required for nursing and therapy staff; including the resident's physician, nurse practitioner, case manager, recreation therapist and/or nutritionist/dietician is helpful. Grand Rounds may also include environmental services to address issues related to a resident's room, equipment, etc. For example, consider the value of having issues related to the physical plant – like a broken TV or a dripping faucet – being solved right away.
The primary purpose for Clinical Grand Rounds is to comprehensively and holistically address the current needs of the resident. With a solutions-oriented approach, this "concierge-level" of attention should be a collaborative effort. With meaningful interdepartmental communication, medical, therapeutic, functional and lifestyle issues can be addressed and resolved.
Based on HealthPRO®/Heritage experience, Clinical Grand Rounds can be very effective in facilitating consistent communication practices necessary to eliminate silos and ultimately enhance efficiencies, mitigate risk, and improve resident satisfaction and outcomes.
The ability to execute on this simple tactic, and consequently glean positive results, is a good indicator of a SNF who is willing and able to reach out and build collaborative relationships that strengthen the value proposition for their referral networks.
Ten More Good Reasons to Execute on Clinical Grand Rounds
A culture of shared responsibility, results in contagious workplace optimism;
Staff who regularly collaborate have higher job satisfaction;
A streamlined preparation process to ensure success during state survey;
Rounding process addresses Quality Measures resulting in improved 5 Star Ratings;
Early identification of residents at risk for rehospitalization;
Opportunity to address restorative programming needs in order to capture quality care and enhance CMI;
More attention to facility cleanliness/physical plant concerns;
A cost effective use of therapy time, since Clinical Grand Rounds would replace traditional screening;
Improved compliance as process encourages correlated documentation between therapy and nursing;
Ultimately, Clinical Grand Rounds is a simple, but effective example of how SNFs can work to eliminate communication barriers and share accountability between sectors for better patient care and optimal performance outcomes. A SNF that can successfully demonstrate an internal collaborative workflow stands a much better chance of leveraging this approach externally (as with referral networks and ACO systems, etc.)
Putting it in Perspective
As networks continue to narrow, skilled nursing facilities must have the capability to develop their own continuum of care partnerships. SNFs that continue to struggle with a silo approach are likely to face challenges related to forming strategic relationships with referral sources, upstream/downstream partners and other members of the post-acute continuum.
Clinical Grand Rounds can foster a culture of interdisciplinary communication and shared responsibility that will ultimately improve a facility's likelihood of successfully building and maintaining strategic partnerships within the post-acute care continuum.
Contact the Clinical Strategy Division at HealthPRO®/Heritage to learn more about establishing Clinical Grand Rounds at ClinicalStrategies@healthpro-heritage.com or for more solutions related to managing silos and/or cross-continuum collaboration. Also, refer to recent Advisor publication "A SNF Operator's Self Test: Five Factors That Will Most Likely Impact The Future Of Your Facility" for additional information.