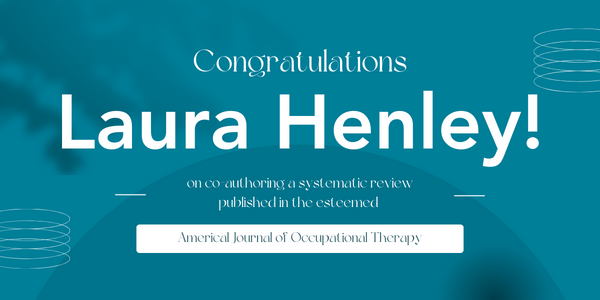 Today, we celebrate an incredible achievement within our team as Laura Henley, a dedicated Program Manager at Belmont Village of St. Matthews, co-authors a systematic review published in the esteemed American Journal of Occupational Therapy.
Their work, titled 'Interventions within the Scope of Occupational Therapy addressing Behavioral and Psychological Symptoms of Dementia (2018-2022),' sheds light on crucial strategies to enhance the lives of those impacted by dementia. This systematic review highlights the significance of nonpharmacological interventions as highly effective methods for managing BPSD. Including
reminiscence therapy,

music therapy,

exercise,

cognitive-based interventions,

cognitive behavioral therapy,

and support for care partners.
These findings underscore the importance of Laura's dedication and expertise in advancing the field of occupational therapy.
Join us in applauding Laura for her remarkable contributions and in celebrating her outstanding accomplishment!
Read the article on ATOA.org
Abstract
Systematic review briefs provide a summary of the findings from systematic reviews evaluated in conjunction with the American Occupational Therapy Association's Evidence-Based Practice Program. Each systematic review brief summarizes the evidence on a theme related to a systematic review topic. This systematic review brief presents finding related to interventions within the scope of occupational therapy that address behavioral and psychological symptoms of dementia.