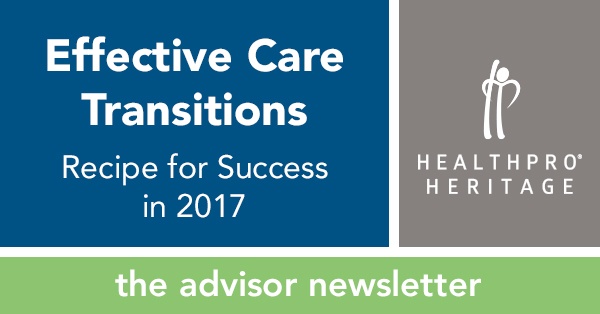 It's as easy as 3, 2, 1: 3 Major Tenets + 2 Goals + 1 Process
Every post-acute care provider across the care continuum bears the responsibility for ensuring all patients receive comprehensive, safe and efficient care navigation. As patients transition from one level of care to another, effective care planning is a critical factor in that patient's overall satisfaction and success. Consider the following "recipe" for successful care transitions.



3 Major Tenets to "Bake" In Effective Care Transitions
1) Interdisciplinary teamwork is imperative!
There is no such thing as "too many cooks in the kitchen" as it relates to effective care transitions. In fact, safe transitions between all levels of care rest in the hands of every member of the clinical and administrative team. As such, consistent and effective communication protocols must be in place to ensure everyone works together towards shared goals (i.e.: setting realistic treatment/discharge milestones, minimizing risks, tracking outcomes, influencing length of stay to meet expectations of many bundled payment partnerships, etc.)
Administrators/Executive Directors should ask:
How is information formatted and shared among my own interdisciplinary team?
Are standardized outcome measures used to inform clear-cut decisions? Are these outcome measures shared so as to maximize continuity of care between hospitals, skilled nursing, assisted/independent living, home health and out-patient partners?
Are the current communication protocols providing for the most seamless and effective transition and continuity of care? Is there a well-defined, judicious process for discharge planning?

2) Resident and family engagement is the key ingredient.
Family members and patients alike should be empowered to advocate for discharge plans that optimize appropriate care and serve to identify potential barriers and risks. To this end, on-going support and education for patients/caregivers assures effective care transitions, and simple patient-centered strategies can effectively fortify successful transitions from one discharge setting to the next.

Checklist: Does my interdisciplinary team leverage patient/caregiver involvement?

Is there a framework that provides for consistent patient advocacy and health literacy?
Does the IDT consistently/effectively communicate with patients/family members, including implementation of The Final Rule's measure of a 48 hour family care plan meeting?
Are there turn-key processes in place to provide:

Easy-to-follow, well-written discharge plans?
Medication management/reconciliation plans?
Ways in which to assess understanding of discharge plan and education provided?
Family's understanding/commitment to follow up MD visits?
A review of what to do if a problem arises?
Tracking of hospital readmissions at 30 days, 60 days, and 90 days?
3) Clinical excellence is the hallmark of safe, efficient transitional care.
Advanced clinical programming that is aligned at all levels will set the table for mitigating functional decline and hospital readmissions as well as optimal performance outcomes.


Consider the following examples:
HealthPRO®/Heritage therapists:

Conduct early assessments of the home /discharge destination, equipment needs, skills inventory, etc;
Employ evidence-based, standardized tests for all patients so as to assess, document, track and manage progress towards discharge goals;
Design clinical programs based on a facility's Star Ratings and Quality Measures to address unmet clinical needs;

HealthPRO®/Heritage "Clinical Strategies" experts recommend internal processes to support:

Comprehensive risk assessments at pre-admission/upon admission
48 hour meeting procedures
Execution of Project BOOST 8Ps
Collaborative partnerships with down-stream partners to ensure warm hand-off and on-going communication during 30, 60 and 90-day windows
Ongoing evaluation of satisfaction surveys, root cause analyses on all readmissions, etc.
2 Goals

Goal #1: A successful transition to the next level of care
Ask: How does my facility define a "successful transition?"
How HealthPRO®/Heritage measures a successful transition:
Enhanced patient satisfaction scores
Positive functional outcome metrics at all levels of care
Lower risk for 90 day readmission
Reduced episodic costs
Goal #2: Patients receive enough ongoing resources/support to allow for appropriate integration into their discharge environment
Ask: How does my interdisciplinary team measure "enough resources?"

How HealthPRO®/Heritage measures "enough ongoing resources/support":

Patients are less likely to have a decline or be readmitted, and they are more likely to score positive functional outcome metrics when they can teach back or demonstrate knowledge regarding the disease/condition.



1

Process: "Safe Transitions Framework"


HealthPRO®/Heritage has developed a proprietary process to ensure exceptional transitional care for every patient from one care setting to the next. Based on our experience serving clients in all care settings (acute care, skilled, AL/IL, home health and out-patient), the recently launched "Safe Transitions Framework" is adapted from principles outlined in the evidence-based, protocol-driven practice from Boston University: PROJECT RED (Re-Engineered Discharge).

HealthPRO®/Heritage recommends adopting a protocol-driven tool that prioritizes the following:

Post-discharge services/equipment, follow-up & support
Patient Advocacy, Health Literacy
Flawless Interdisciplinary Communication
Data-Driven Decision Making
Outcome Measures to support cross-continuum continuity
Follow-up calls for 30, 60, and 90 days

And Data to Drive Decisions
Variety is the spice of life, and HealthPRO®/Heritage recommends carefully considering several data points and objective, evidence-based tools to track, manage and inform decisions regarding clinical programming.

For example, when developing niche programs on behalf of our clients, objective performance data serves to guide our clinical strategy.
Likewise, HealthPRO®/Heritage recommends use of evidence-based clinical tools to assess, track, manage and leverage patients' progress. As part of our "Safe Transitions Framework," we guide the interdisciplinary team in utilizing the tools which allow for the most comprehensive and individualized program for each patient.

SUMMARY: If you can't stand the heat, stay out of the kitchen.
As patients move through the care continuum, processes must be in place to ensure safe transitions. Providers at all levels of care are charged with the same challenge: to proactively manage risk and influence key performance drivers (i.e: length of stay, patient satisfaction and hospital readmissions). In light of the industry's sweeping regulatory and practice changes from CMS (THINK: The Final Rule) and all-encompassing network narrowing of preferred providers, the implications are far-reaching.

To be successful and remain competitive in 2017 and beyond, providers must continue to have an appetite for prioritizing effective transitional care!

ASK: How can you enhance your current processes to ensure care transitions are a focus in 2017 and beyond?

HealthPRO®/Heritage can help. Please contact Clinical Strategies at ClinicalStrategies@healthpro-heritage.com to get started.