Heritage Healthcare continues positive growth in 2012 by providing therapy management solutions to senior care facilities.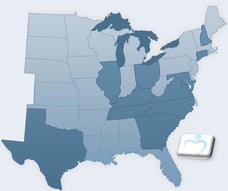 Independently owned Heritage Healthcare is an industry leader guided by an experienced executive team since its inception in 1999. Based on a core philosophy of Compassionate Care that applies to their Associates and customers, Heritage Healthcare has continued to expand into 12 states as it approaches its 13th Anniversary this June.
To provide effective therapy solutions, Heritage Healthcare focuses on having solid partner relationships with facilities. Through constant, open communication, Heritage Healthcare functions as a seamless extension of the facility staff. This was clearly evidenced by the recent Medicare reimbursement changes. Heritage Healthcare prepared well in advance and educated facilities about the numerous upcoming challenges and potential solutions prior to their enactment.
Staying proactive regarding ever-changing Medicare rules helps to minimize confusion and maximize success. Heritage Healthcare is proud to offer their expertise, as well as efficient and effective processes and programs, to senior facilities across the U.S.
To learn more, visit the Heritage Healthcare website at www.heritage-healthcare.com or call Al Eads at 877.508.3237, ext. 112.