For insights about relevant and sensitive issues, Advance for Long-Term Care Management asked Heritage Healthcare for their expertise.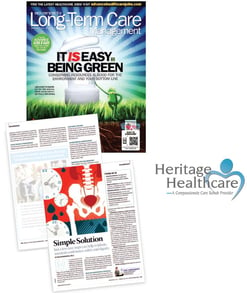 Heritage Healthcare was founded on a philosophy of Compassionate Care, which is why "Advance for Long-Term Care Management," called on us when they needed an article discussing the delicate topic of incontinence.
In the March/April issue you'll find the article, 'Simple Solutions' on page 35 http://health-system-management.advanceweb.com/
Written by Traci Witherspoon, OTR/L, Regional Director of Clinical Services at Heritage Healthcare, it offers practical ways to help solve a sensitive issue that affects more than half of all nursing home residents.
Heritage Healthcare is an independently owned provider of contract rehab services. Since 1999, we have developed partner relationships that focus on the needs of facilities and their residents.