Heritage Healthcare is committed to keeping customers and Associates up to date with Company information as well as industry news. Among the numerous ways they stay in touch is through their website. Heritage is now in 12 states and the need for easily accessible communications is essential. To meet this need, Heritage is proud to announce their new website is up and running.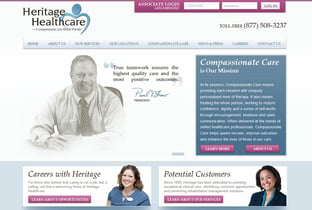 The all new website will assist in minimizing confusion about the Medicare changes that took effect October 1st. Visitors to the site will find the most current information and explanations of Medicare rules and regulations.

The new website has improved features, the latest news, career opportunities, videos testimonials, and details about Heritage Healthcare's services and philosophy of Compassionate Care. There are also specific areas designed for current and potential customers and the new website allows potential candidates to apply for immediate employment opportunities online.

Creating partner relationships with their customers, combined with their 12 year history of placing clinical care above all, has contributed to Heritage Healthcare's longevity and success.

To learn more, visit the new website at www.heritage-healthcare.com or call Al Eads at 877.508.3237, ext. 112.