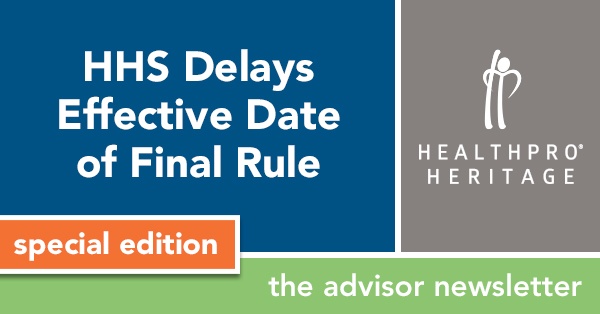 On March 20, HHS issued a statement delaying the effective date of the Final Rule as it applies to three new EPMs. The start date has been changed from July 1, 2017 to October 1, 2017 for:
Advancing Care Coordination through Episodic Payment Models (EPMs)
Cardiac Rehabilitation Incentive Payment Model
Changes to the Comprehensive Care for Joint Replacement Model (CJR)
Moreover, HHS Secretary, Mr. Tom Price, indicated a preference for these payment demonstration to be voluntary (rather than mandatory, as previously stated), signaling the agency's willingness to perhaps reconsider an alternative approach than previously outlined.
This swift change in course reinforces a critical tenet for health care providers: Be nimble – so as to respond to an ever-changing landscape – but remain singularly focused on a well-defined stratagem aligned with providing Value versus Volume. While this week's announcement may temporarily relieve immediate pressure on providers, other programs that require innovative, proactive approach still require our focus; e.g.:
The "SNF VBP"
The "HH VBP"
The "SNF QRP"
New Rule of Participation
Inclusion in preferred partnership agreements
Continued competitive narrowing of networks
Increasing hospital penalties
and the list goes on!
HealthPRO®/Heritage urges our customers to remain vigilant! We take our role seriously in preparing our clients not only survive, but thrive in 2017 and beyond. As such, education regarding CMS changes (including timelines and strategies for success) is the foundation of our partnerships. Additionally, HealthPRO®/Heritage offers support for implementing clinical/operational/compliance initiatives that align with all CMS changes and mandates including:
Care redesign to ensure safe care transitions
Strategies for mitigation of rehsopitalization rates
Enhance patient satisfaction scores
Clinical niche programming
Effective medication management programming
QAPI/QM programming, etc.
HealthPRO®/Heritage clients (from SNF, home health and senior living communities) can continue to rely on the consultative expertise of our Compliance, Clinical Strategies and Operations Teams to meet the challenges of health care reform and to deliver world-class therapy management services from coast-to-coast.