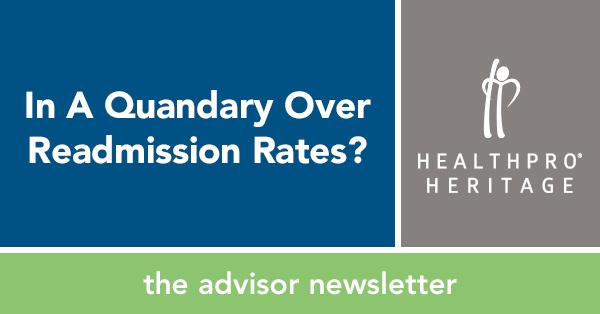 quan·da·ry (kwon-dree); noun
A state of perplexity or uncertainty over what to do in a difficult situation.
Example: Post-acute care providers feel in a quandary about tracking & calculating multiple readmission rates
While some terms may be easy to define, the post-acute care industry is finding it nearly impossible to define the different types of readmission rates for which they are being held accountable.
And since we are "all in this together," it requires that all post-acute care providers must understand readmission rates and how they impact reimbursement in order to be a worthy network partner.
Subject-matter experts at HealthPRO®/Heritage offer the following guidance to help make sense of the "Alphabet Soup" of readmission rates.
Readmission Rate #1:
SNF Value Based Purchasing Program (SNF VBP)
What's at Stake:
Medicare will be withholding 2% of FY 2019 FFS payments to fund the performance incentives.
What's the Objective:
To encourage SNF providers and their downstream partners to reduce hospital readmissions in an effort to reduce costs and improve the quality of care.
Who is Impacted:
All levels of the care continuum. Since skilled nursing facilities must now evaluate and strategically choose downstream partners, it is imperative for home health agencies, durable medical equipment (DME) suppliers, as well as assisted living and independent living communities to understand the SNF VBP. Moving forward, savvy providers at all levels of care will be expected to demonstrate effective readmission mitigation strategies to earn collaborative partnership opportunities with SNFs.
What's Being Measured:
SNFRM (SNF 30-day All-Cause Readmission Measure) measures unplanned readmissions to the prior proximal hospital for all Medicare fee-for-service SNF patients within 30 days of discharge. Performance in CY 2017 will be compared to a SNF's own performance in CY 2015 and to the national mean of the best decile in CY 2015 which is 16.399%. Facilities nationally will be ranked on performance. Going forward, the SNFRM will be based on data for 12 months of SNF admissions, and as such will be evaluated on a 1-year cycle.
Important to note:
Relates to any cause or condition applies;
The SNF admission must have occurred within 1 day after discharge from the prior proximal hospital stay;
The SNFRM is adjusted to account for patient acuity (such as comorbidities, etc.)
Data source: This measure is drawn from data in the Medicare eligibility files and inpatient claims data.
Where to Find It:
The baseline readmission rate for CY 2015 will be released by CMS sometime in summer 2017.
The SNFRM can be found in the CASPER report. Here's what to look for: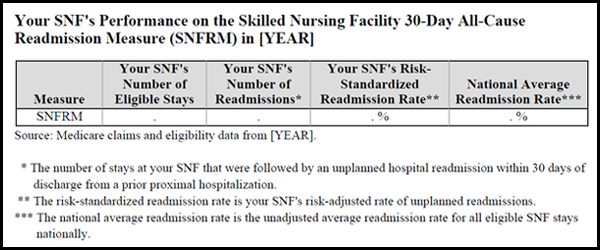 Readmission Rate #2:
Reportable Short Stay Quality Measure related to the 5 Star Rating System
What's at Stake:
Overall 5 Star Rating, overall Quality Measures rating, and census. This is especially pertinent for those SNFs participating in alternative payment models who may be excluded if they do not maintain 3 Stars or higher.
What's Being Measured:
This metric represents the percent of short-stay residents who entered/reentered the nursing home from a hospital and were re-admitted to a hospital for an unplanned inpatient stay or observation stay within 30 days of the start of the nursing home stay.
Where to find it:
This data will be pulled from Medicare FFS claims and can be found at:
https://www.medicare.gov/nursinghomecompare

re·ad·mit (rēədˈmit); verb
To admit (someone) to a place or organization again
Example: According to healthcare reform initiatives, every PAC provider must avoid readmission at all costs!
Even acute and post-acute care providers need to understand and support these SNF measures in order to be smart, strategic partners. In fact, consider what innovative measures are now taking shape that represent cross-continuum collaboration to optimize these performance requirements:
Better collecting and sharing of data from hospitals, senior living, home health and SNFs
ER diversion programs
More robust clinical programs and clinical capabilities that support CMS mandates/triple aim
Services that support higher acuity patients/residents
Looking for preferred providers based on quality of care
As a forward-thinking health care solutions organization, HealthPRO®/Heritage can both support and execute on care redesign initiatives to mitigate readmissions, keeping PAC providers ahead of the curve. Likewise, count on HealthPRO®/Heritage to assist with navigating the confusion with new rules, regulations and expectations associated with healthcare reform!
For more information, please contact Clinical Strategies at ClinicalStrategies@healthpro-heritage.com.