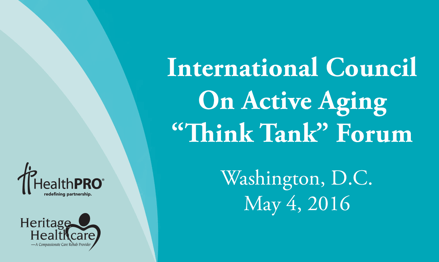 MEDIA RELEASE
For Immediate Release
Contact: Al Eads
Phone: (864) 244-3626
CHRISTY DAVIS SELECTED TO ATTEND INTERNATIONAL COUNCIL ON ACTIVE AGING "THINK TANK" FORUM IN WASHINGTON, D.C.
JOINS 60 GLOBAL LEADERS PARTICIPATING TO BRAINSTORM CHALLENGES FACING TODAY'S ACTIVE AGING INDUSTRY
(April 05, 2016) As a respected thought leader within the aging industry, Christy Davis will attend the International Council on Active Aging (ICAA) Forum May 4th in Washington, D.C. on behalf of HealthPRO®/Heritage. The bi-annual forum brings together thought leaders from health care, wellness and technology organizations to discuss pressing issues facing the ever-evolving "active aging" industry.
Launched more than 10 years ago, the meetings forge connections among industry leaders while promoting understanding and cohesive action around the ultimate goal: health and quality of life as people age. The forum is also dedicated to forming a think tank to develop strategies that will turn the challenges facing senior living providers into opportunities.
"Active aging means living your life to its fullest – no matter your age. As an organization that's mission is to make this goal achievable for all adults over the age of 50 around the world, the opportunity to have the top minds in the industry together in one room is an important moment for us, " said Colin Milner, CEO of ICAA. "We use these sessions to set our priorities and problem solve on behalf of the industry to achieve our goals to change the way we age for the better."
The theme for this session is focused on the future of technology for active aging and will explore how technology will impact wellness environments, services, staff and customer expectations, engagement and outcomes.
"To have Christy Davis participating in the ICAA Forum this year is a great honor, and we are excited to have a seat at the table for a discussion that will shape the future of our industry," said Al Eads, Executive Vice President.
###
About HealthPRO® Rehabilitation
Established in the late 1990s, HealthPRO® provides proactive therapy management models that are clinically-driven, compliant, and outcome-oriented. Founded by skilled nursing and therapy professionals determined to embrace the industry's challenges, create innovative solutions, and build exceptionally strong rehab program throughout the United States, HealthPRO® is distinguished by flexible solutions that span the continuum of care from acute hospitals through settings such as SNF/LTC/Subacute, CCRC, assisted and independent living, outpatient, schools and home care. For more, visit healthpro-rehab.com.

About Heritage Healthcare, Inc.
Founded in 1999 by President Paul Shaw and Executive Vice President Al Eads, providing "Compassionate Care" is the overriding mission of Heritage Healthcare. Heritage Healthcare is a leading provider of out-sourced Physical Therapy, Occupational Therapy and Speech Language Pathology services to the residents of long term care and assisted living facilities as well as Continuing Care Retirement Communities throughout the United States.

About the International Council on Active Aging (ICAA)
ICAA, a professional association that leads, connects and defines the active-aging industry, supports professionals who develop wellness facilities, programs and services for adults over 50. The association is focused on active aging – an approach to aging that helps older adults live life as fully as possible within all dimensions of wellness – and provides its members with education, information, resources and tools.