When looking at a specific PDPM opportunity or impact analysis, it is imperative to understand the data behind the comparison. In looking at an opportunity, it's great to see the financial aspect of it. You are also more than likely asking yourself, "How much am I leaving on the table? And, "Where should I place my resources, education, and follow-up based on this data?"
These are exceptional questions and truly the best way to provide an intentional strategy to obtain the right results and biggest impact.
At HealthPRO Heritage, we find value in the strategic discussion behind the data and the true impact the data is showing in relation to any particular skilled nursing facility or chain. It can be difficult to compare Medicare A Fee For Service per diems in multiple states, specifically urban vs. rural locations. This is noted in any review when the operator asks, "Why isn't my Medicare per diem close to the sample I am being shown?" Let's dive into what is important and what you do need to focus on with any opportunity or impact analysis.
The Problem
In the below example, the data shows a much lower rate in the rural location compared to a rate much higher in the urban location.
When you dive deeper into the Case Mix Components for PT, OT, SLP, Nursing and NTA, you see a completely different picture with the rural location that includes coding at a higher level of acuity and complexity in the ST and NTA components, and a similar level in the nursing case-mix to that of the urban NY location. While opportunities lie with both SNFs in these different locations it is difficult to say that the rural SNF location has an opportunity of $240.12/day based on how the urban SNF is performing.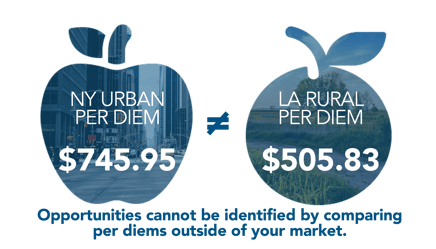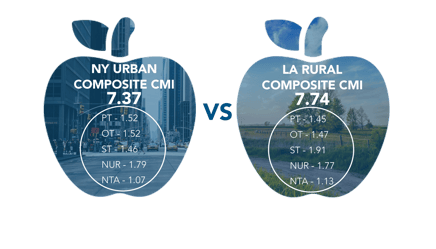 The Solution

The Case Mix Index (CMI) is the way to compare apples to apples in any state or SNF looking at national and SNF partner base statistics. Leveraging actual CMIs to state and/or SNF customer base according to your base rate gives you a more realistic opportunity analysis for overall financial impact. Take your individual CMI for PT, OT, SLP, Nursing, and NTA and compare that to like providers from your current market. This analysis would allow you to see the financial impact on your organization.
In addition, pairing the analysis with a strategic meeting with HealthPRO Heritage to review current hierarchical condition category (HCC) risk scores for your community will help you differentiate from others in your market. This level of discussion will give more insight into the level of acuity you are seeing within your SNF and help guide potential missed opportunities in PDPM payment. Through this, we formulate a realistic target based on your resident volume/population and clinical complexities. Our goal is for our partners to right-size their PDPM payment rates based on their current and future clinical census.
At HealthPRO Heritage our real-time business intelligence gives our partners insight into the opportunity in each of the case-mix areas along with the intentional education, tools, and resources to implement a true strategic approach for sustainable improvement and impact for our partners. The reporting necessary to identify and permanently fix any misses in accurate coding of any MDS section is not only available to clinical reimbursement and operations in real-time, but through our strategic work plan, we are able to support these initiatives with our partner in true "roll up your sleeves" approach.
Contact us to learn more ways how HealthPRO Heritage can partner with you.