This week, Heritage Healthcare celebrates National Nursing Assistants Week.

Now in its 37th year, this annual event, sponsored by the National Network of Career Nursing Assistants, is a special time to show our local and regional communities how residents, families and nursing assistants can work together to provide care for those who need it.

There will be a number of fun, educational events held throughout the week, all aimed at showing us the amazing work nursing assistants do in hopes of encouraging others to get involved.
In 2014, look for recognition events that reward the unsung heroes who care every day, as well as events in the press to help raise awareness.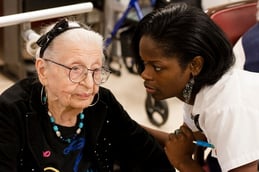 On 12 June, the start of this special week it is National Career Nursing Assistants Day. This is also an important time to recognize the work of nursing assistants who have dedicated their lives to caring for others and to learn from the skills they have gained in that time. There are a lots of ways to get involved, whether you're a career nursing assistant or would like to learn more about how to become one.
Each day, the Heritage Healthcare clinicians work with nursing assistants to provide optimal care to the residents we have the privilege to serve, and for that - we are truly grateful.
--
http://www.national-awareness-days.com/national-nursing-assistants-week.html