Researchers have developed a scoring system to determine which hospital patients are at highest risk of readmission within 30 days of discharge, potentially helping acute and post-acute providers focus on high-intensity transition care for these patients.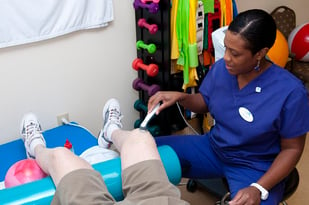 The research team from hospitals and medical schools in the United States and Switzerland looked at characteristics of more than 9,200 people admitted to Boston's Brigham and Women's Hospital between 2009-2010. They identified seven factors to create a readmissions risk score. These factors are sodium level at discharge, hemoglobin at discharge, number of procedures during admission period, non-elective versus elective admission, number of admissions within the previous 12 months, length of stay and discharge from oncology.
Based on these data points, clinicians can calculate what the researchers dubbed a HOSPITAL score to determine risk of readmission.
"This easy-to-use model enables physicians to prospectively identify approximately 27% of the patients as high risk of having a potentially avoidable readmission and would allow targeting intensive transitional care interventions to patients who might benefit the most," the researchers wrote.
Internal testing validated the system, and it will now go through an external validation process, according to the researchers.