What exactly are Non-Therapy Ancillaries, otherwise known as NTA's?
In not so many words, NTA's are a long list of diagnostic categories and clinical support services needed to care for those patients that may be more medically complex or demonstrate a higher acuity. NTA's are calculated, upon admission, by assessing a patient's clinical profile. During that discovery phase through their H&P, you may be able to obtain a NTA Comorbidity Score based on their comorbidities, use of specialized equipment, or certain medications/treatment approaches. This score would then be assigned a CMI value that would be multiplied by the NTA base rate that is assigned to your geographic area ($78.05 for urban settings and $74.56 for rural). Once you multiply your NTA Base Rate by your NTA comorbidity, you then multiply by three for the first three days of the stay. On day 4, that rate drops to 1/3 of that original value. The rationale for the varying per diem is that these types of patients require greater services and thus greater cost in the beginning part of their stay, or consequently result in a slightly longer stay. The increased rate for the first three days is CMS' attempt at "rewarding" facilities who admit and treat these higher acuity individuals. Clever, right?
So let's look at where post-acute providers are currently sitting across the nation. The following graph demonstrates the breakdown of NTA categories and where patients fall with the most recent data we have from CMS.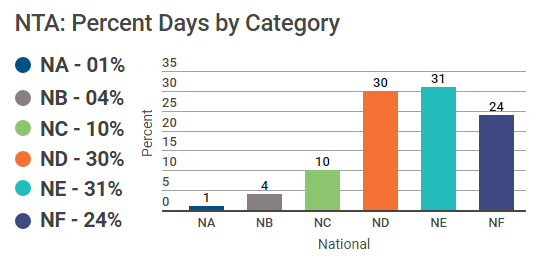 "NA" reflects a NTA score of 12+ and is the highest reimbursement. As you can see, data shows only 1% of beneficiaries would fall into this category. Or would they? Remember this is historical data that assumes no behavior changes. This is (quite possibly) without advanced coding capabilities, pre-transmission reviews, use of MDS scrubbers, and so on. So while we certainly won't see majority of individuals falling into the NA category, we can certainly see more than 1% in the future. "NB" is the second highest reimbursed and that reflects a score of 9-11. You may have some individuals under your care right now that would fall into this category. Possibly someone with COPD (2), receiving IV meds (5), and has an active diagnosis of diabetes mellitus (2). Boom- 9 points. And it doesn't sound so far-fetched, right?
With regards to that above example, and assuming for this exercise that you are in an urban setting, you would have the NTA base rate of $78.05 and then multiply that by CMI of 2.53 for our resident with a 9 NTA Comorbidity Score and then for the first 3 days we can multiply that payment by 3. That results in $592 dollars for the NTA component for the first three days. Thinking of that example- and knowing what you would receive for those 3 initial days- would you gladly accept the patient with the assumption it would well off-set the cost of the IV? Under current RUGs IV there are times where we may shy away from folks who have a laundry list of meds or services, but in the world of PDPM, it really is a strategy of assessing the clinical needs of the resident, managing the timeline and capturing the care that you are capable of delivering.
Not sure where to go next with this info? Here is what you should start doing today:
Be aware and knowledgeable when it comes to what conditions can be captured as NTA items- familiarize yourself with the Grouper Tool (SNF PDPM Grouper Tool).
Continue to improve communication and methods for handoff of pertinent patient information with discharging hospital so that you can accurately capture all appropriate NTA items and determine most effective approach/pathway to utilize with the incoming individual.
Review processes related to timely and accurate diagnostic coding. Begin determining the WHO and the HOW.
Educate medical directors on upcoming changes and impacts.
Review national stats in comparison to facility stats to determine if a coding initiative is needed, or possibly identify specific conditions, which may align you with a niche market needed within your area.
Identify the costs related to the care and management of these conditions to ensure effective and efficient resource utilization.
NTA's will shape care delivery in the future- there is no doubt. Many facilities have already recognized this and have begun pouring over the list of items and strategizing specialty programs, additional education for clinical staff, competencies for care delivery, vetting out strong partners in way of physician groups or hospitals, etc. Remember- the only constant in healthcare is change, and this may be the catalyst that you have been waiting for to help spark the change needed in your organization. Now is your time to reassess programs, pathways, workflows, processes, etc. Use your time wisely over the next year to advance your staff's clinical capabilities, increase your clinicians' comfort levels with higher acuity residents, and empower your staff with the resources needed to be able to achieve the optimal outcomes your patients deserve.
Information based on Proposed Rule released by CMS on April 27, 2018.
Written by: Kristi Smith, MSPT, RAC-CT, Regional Vice President of New England
Kristi's #HigherCalling: "I support those who constantly put others' needs first. Watching the pride on our staffs' faces as they achieve optimal outcomes and goals with our residents is priceless."