Do you have a feeling you have increased risk with your current resident population? Is there minimal engagement in wellness offerings or more frequent falls? How about unplanned move-outs that do not return to your community?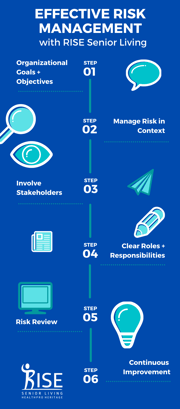 The answer is a fresh set of eyes with a strategic approach.
Invite RISE Senior Living to conduct an on-site risk management assessment to find out where there are opportunities. Once completed, our team can help support change and implement solutions to the risks identified.
Click
HERE
to see what to expect from a Senior Housing Risk Mitigation Assessment.
As senior living organizations work toward overcoming today's challenges, many are finding success by partnering with consulting experts.
These offerings are vital to the successful operation of strong communities. We invite you to take a deeper dive into the benefits of partnering with RISE Senior Living's consulting team by clicking below or contacting us,
here
.