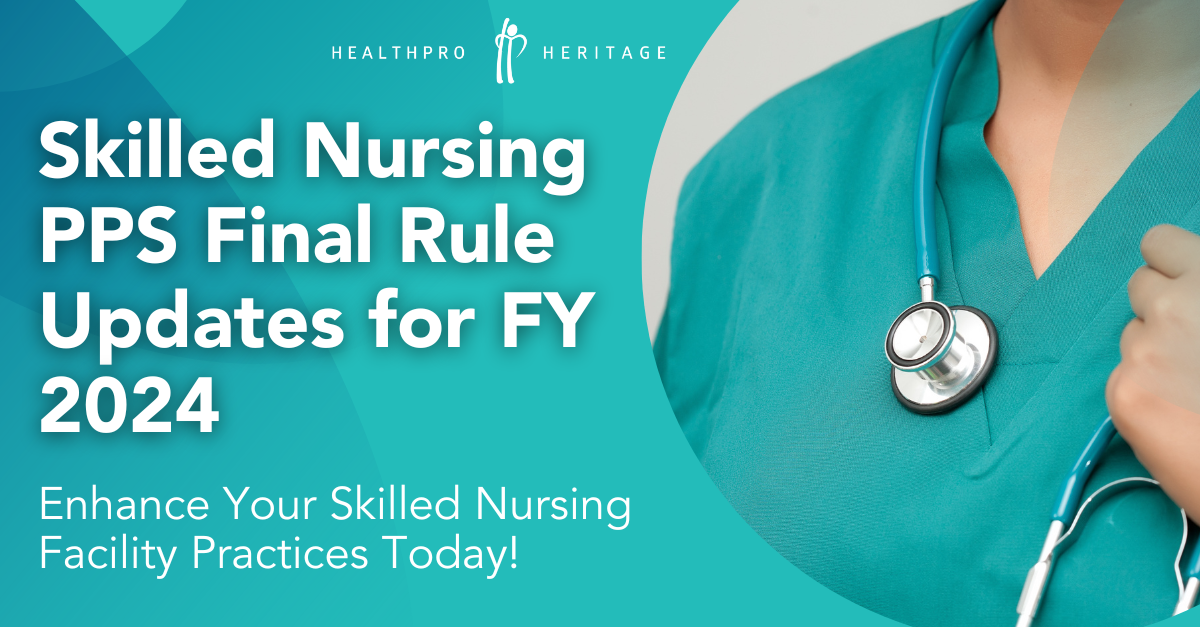 Elevate your facility's excellence with HealthPRO- Heritage. Let's confidently navigate the future of Post-Acute Care and achieve lasting success together.
Here are the latest developments from the Centers for Medicare & Medicaid Services (CMS) that will undoubtedly continue to change the landscape of skilled nursing facilities. Get ready to embark on a journey of transformation and optimization as we break down the changes that can elevate your facility's performance and patient care.
Unlocking Financial Growth and Quality Improvements:
CMS has finalized a 3.7% aggregate increase in payments, paving the way for greater financial stability and growth. Your commitment to quality care may also be rewarded as CMS refines the Quality Reporting program, propelling your facility towards higher standards of excellence.
Navigating Evolving Coding Dynamics:
As CMS introduces ICD-10 Code Mapping updates, it's crucial to reassess your coding strategies and workflow. We understand the paramount importance of maintaining accurate case mix and coding. Our tailored solutions will guide you through this transition, ensuring your facility stays on top.
Mental Health Inclusivity and Billing Advancements:
Good news awaits as CMS excludes mental health services from Consolidated Billing, allowing MFT and mental health counselors to directly bill Medicare for their services. This will increase access to these services for your residents and allow for more comprehensive care planning.
Mastering Health Information Transfer and Reporting:
Seamlessly meeting the Health Information Transfer Requirements/Reporting will be a breeze with our expert guidance. Count on our consulting team to help your staff stay aligned and proficient in this essential area as you assess your processes for medication reconciliation along the continuum of care. Through our partnership, you can access training on these measures in our PDPM University.
Pioneering Health Equity Adjustments:
CMS is embracing health equity with the adoption of a Health Equity Adjustment in the SNF VBP Program. This groundbreaking initiative is set to transform care for underserved populations, setting the stage for a more inclusive and compassionate future. Our consulting team can help you assess and access relevant population health data in your area.
Empowerment Through Knowledge: Prepare with Precision
To ensure your facility thrives in this dynamic environment, we offer a comprehensive roadmap below for preparation:
Coding and Workflow Assessment: Harness the power of accurate coding and efficient workflows. Our experts will steer you through the intricacies of case mix management and ICD-10 coding, guaranteeing a smooth transition.
Enhance Data Collection and Interviews: We collaborate to help you align admission data collection and interviews with RAI Language, optimizing the process for MDS interviews and Social Determinants of Health. Our updated Net Health reporting will bring critical data to the IDT from the rehabilitation team.
Quality Reporting Excellence: Our consulting team can facilitate compliance with the Quality Reporting Program changes. We empower your team to deliver the new standard of 100% compliance on 90% of assessments, setting the stage for annual payment update performance.
Optimize Discharge and Intervention Practices: Gain a competitive edge by focusing on level of function at discharge. Our solutions equip your IDT with transparency and accuracy in MDS scoring.
Harness Early Intervention and Infection Control: Assess strategies for early intervention and infection control to ensure that your facility minimizes hospital transfers and maximizes patient well-being. Ask about our Clinical Grand Rounds and Safe Transitions programs!
Future-Proofing Your Facility: Anticipate future needs by assessing patient mix and community requirements, with special emphasis on Dual Eligibility, Race, and Ethnicity. We help you leverage health equity updates for underserved populations, setting the stage for sustained growth.
Partnering for Excellence: HealthPRO- Heritage at Your Service
To support you through this journey, HealthPRO- Heritage enhanced our comprehensive suite of MDS solutions and we will leverage our proven PDPM processes. Our dedicated Rehab Director and support team is committed to facilitating seamless communication between the Rehabilitation team and the IDT, ensuring successful collaboration.
Reach out to our consulting team today to access guidance and support:
Kristy Yoskey SVP of Strategy + Consulting
Email: kyoskey@healthpro-heritage.com