HealthPRO Heritage at Home invites you to Envision Everything to master regulatory change and execute a strategic response rather than simply focusing on the mechanics of regulatory and reimbursement changes.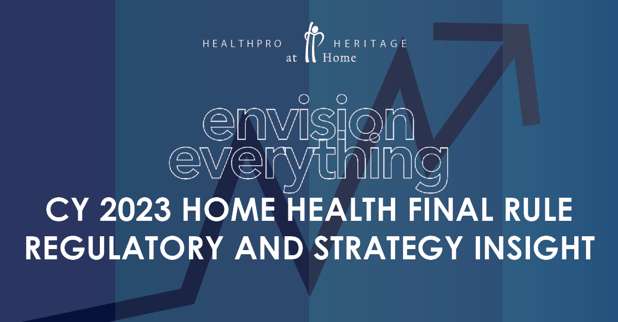 Home Health Envision Everything! Is a call for healthcare providers to mobilize toward CMS's 6 Strategic Pillars.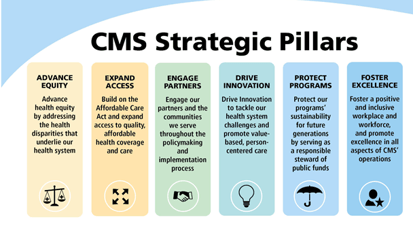 Envision every change as a step towards CMS' ultimate plan for a future where health equity and innovation are top of mind and Value-Based Payment systems are fully realized;

Critically evaluate the broad implications of changes and trends; understand how changes at one level of care impact upstream and downstream service delivery;

Choose to see CMS changes as an opportunity to engineer truly meaningful solutions that will shape the future of healthcare. Engage as a partner in policy making through advocacy and communication with legislators and regulators.

Apply the Envision Everything! strategy to the newly announced regulatory changes for 2023. CMS recently released significant Final Rule announcements with far-reaching implications that continue the move toward value-based care.

CMS continues to adjust

the HHA baseline years and added

OASIS data collection on non-Medicare/non-Medicaid HHA patients.
The impact of these changes should be strategically assessed across the care spectrum for patients and healthcare providers alike! But do so by weighing what opportunities arise with change. In other words, be inspired to…Envision Everything! HPH experts offer up the following insight and guidance:
HHA's should align clinical best practices with accurate reimbursement and accurate resource allocation. HealthPRO Heritage teams can help identify coding and partnership opportunities to ensure patients are scored to reflect the true clinical complexity of the episode. This will also position your agency to illustrate improved patient outcomes and overall success with Value Based Payment. Learn more about VBP strategies HERE.

HHAs must become adept at mitigating hospitalization (or be subject to penalties). Strategic use of therapy services and strengthening alliances between outpatient therapy, HHAs, Senior Living and SNFs to better coordinate care across the spectrum is more important than ever as CMS changes the HHVBP Model baseline year from CY 2019 to CY 2022 with the first performance year kicking off in CY 2023.

The Home Health Final Rule shows that

CMS estimates that Medicare payments to HHAs in CY 2023 will increase in the aggregate by 0.7%, or $125 million, compared to CY 2022. Provider behavior and OASIS data for all payor sources will be a key indicator for future payment increases and decreases. Work with your therapy provider to ensure that resource utilization aligns with patient acuity to deliver optimal clinical outcomes.

With more reimbursable services being provided in the home setting, continued access to telehealth, and ongoing COVID-19 waivers, providers are encouraged to Envision Everything! This is a golden opportunity for partnership with Senior Living and outpatient operators who are prepared to care for/admit/readmit or expand services into new service lines together with HHA partners.

We realize that with the move to home and community-based services, partnership and communication are critical for patients, physicians, and home health agencies alike. Your advocacy played a vital role in preserving HHA reimbursement in 2023 and will be important going forward.
On behalf of the HealthPRO Heritage leadership, strategy, and operations teams, HealthPRO Heritage is privileged to serve the healthcare industry for more than 20 years. We pledge our continued support and will offer – resources to our peers and partners – practical tools and industry insights -- as with our Envision Everything! blogs and vlogs.
Stay tuned for more intel & advice from our Envision Everything Regulatory Experts again soon! In the interim, contact our dedicated team of operators & consultants at info@healthpro-heritage.com to learn more about achieving the health & wellness outcomes your patients deserve!