Rather than simply focusing only on the mechanics of CMS mandates like The Final Rule, HealthPRO Heritage's Envision Everything! strategy encourages providers to harness CMS' Six Strategic Pillars, and plan every initiative to be a step towards aligning with CMS' ultimate vision for a future where health equity and innovation are top priorities and Value-Based Payment systems are fully realized.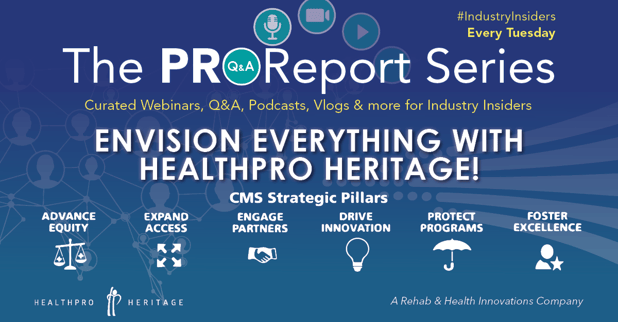 Envision Everything! to Tackle New Regulatory Changes in 2023!
CMS announced several changes in recent Final Rules that promise far-reaching implications. Among the most significant are CMS' intention to preserve reimbursement for Remote Therapeutic Monitoring (RTM) and to support the treatment of chronic conditions by expanding billing codes for cognitive management and pain management for physicians. Also, CMS continues to adjust the Home Health Agency (HHA) baseline years and added OASIS data collection on non-Medicare/non-Medicaid Home HHA patients. Moreover, the Final CY2023 Medicare Physician Fee Schedule features dramatic cuts for SNF physician visits and skilled therapy billed under Medicare Part B. (Note that HealthPRO Heritage expects other payors to likely follow.) With the budget neutrality adjustments (which are required by law to ensure payment rates for individual services don't result in changes to estimated Medicare spending), the required statutory update to the conversion factor for CY 2023 of 0%, and the expiration of the 3% supplemental increase to PFS payments for CY 2022, the final CY 2023 PFS rule shows an approximate 4.47% decrease compared to the CY 2022 CF of 34.6062. In addition to this decrease, CMS estimates an additional 1% decrease in payment for outpatient rehabilitation therapy services.
HealthPRO Heritage invites you to Envision Everything!
To Envision Everything! operators must see regulatory and reimbursement changes as an opportunity to engineer truly meaningful solutions that will shape the future of healthcare. Consider the following Envision Everything! strategies and guidance:
A golden opportunity exists for Senior Living operators who understand state regs and licensing requirements and are prepared to expand services or care for/admit/readmit clinically complex residents. Factors such as an increase in reimbursable services in the home setting, continued access to telehealth, and ongoing COVID-19 waivers are making the Envision Everything strategy possible!
Therapy services keep patients healthy and safe, fortify Quality Measures, support Star Ratings, and serve as an important differentiator for communities struggling to bolster occupancy. As such, advocacy for an extension of the 3% legislated supplemental increase to the fee schedule is critical because the pending cuts will negatively impact all in-house therapy programs and contract therapy providers alike. Savvy providers continue to Envision Everything! and advocate to #StoptheCuts.
Enlist the help of HealthPRO Heritage's Envision Everything! approach to supporting partnership opportunities with transitional care physicians, because value exists in being able to help MDs with coding and reimbursement (e.g., capture new opportunities in chronic pain management and cognitive behavioral therapy).

Pilot programs are currently underway at HealthPRO Heritage to vet RTM technologies and programming. Stay tuned for best practices from HealthPRO Heritage experts regarding optimizing RTM and associated outcomes to take advantage of the Final Rule changes.

Strong alliances (built, in part, by leveraging exceptional therapy services) between outpatient therapy, HHAs, Senior Living, SNFs, and hospitals to better coordinate care across the spectrum are more important than ever, especially for HHAs. (The HHVBP Model baseline year changed from CY 2019 to CY 2022 starting in CY 2023, so HHAs must become adept at mitigating hospitalization or else be subject to penalties.)

According to Home Health Final Rule, CMS estimates Medicare payments to HHAs in CY 2023 will increase in the aggregate by 0.7%, or $125 million, compared to CY 2022. Provider behavior and OASIS data for all payor sources will be a key indicator for future payment increases and decreases. Envision Everything! and work with your rehab provider to ensure that resource utilization is in line with patient acuity to deliver optimal clinical outcomes.
HealthPRO Heritage is privileged to serve the healthcare industry for more than 20 years. We pledge our continued support, practical tools, and industry insights.
Stay tuned for more intel & advice from our Envision Everything Regulatory Experts again soon! In the interim, contact our dedicated team of operators & consultants at info@healthpro-heritage.com to learn more about achieving the health & wellness outcomes your residents deserve!