Discover insight into the CMS proposed rule for FY 2024 in our latest blog as HealthPRO Heritage's Elisa Bovee provides what this update means and strategies for your organization.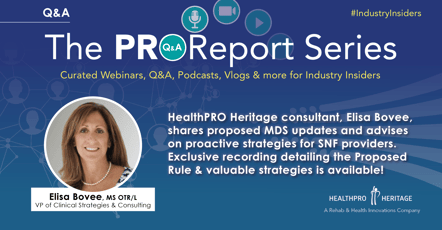 Q: The Centers for Medicare Services (CMS) released a proposed rule for FY 2024. Can you highlight what you believe to be the most important update for SNF providers?
Bovee: Yes, providers will be happy to learn that an increase in SNF Payment Rates is proposed! CMS estimates the impact of the payment policies in this proposed rule would result in a net increase of 3.7% (~$1.2 billion) in Medicare Part A payments to SNFs in FY 2024.
Q: What additional changes are proposed that focus on quality and value-based payment policies, and how are HealthPRO Heritage consultants advising clients in light of these proposed changes?
Bovee: Other proposed updates focus on quality and value-based payment policies. For example, proposed changes to the Skilled Nursing Facility Quality Reporting Program (SNF QRP) are outlined on page 51. Proposed changes include one measure modification, the addition of three measures, and the removal of three measures. Also, policy changes are proposed, including the initiation of public reporting for four measures.
HeatlhPRO Heritage advises providers to know their Discharge Function Score (DC Function) and customer satisfaction scores to assess the potential impact and risk of the CoreQ: Short Stay Discharge (CoreQ: SS DC) Measure.
Also, providers should assess resident/ healthcare personnel vaccination trends in order to prepare for the proposed adoption of the COVID-19 Vaccine: Percent of Patients/Residents Who Are Up to Date (Patient/Resident COVID-19 Vaccine) Measure and COVID-19 Vaccination Coverage among Healthcare Personnel (HCP COVID-19 Vaccine) Measure.
HealthPRO Heritage also suggests providers evaluate how discharge and medication information is received and transferred in order to prepare for proposed public reporting of the Transfer of Health Information to the Provider Measure and Transfer of Health Information to the Patient Measure beginning with the October 2025 Care Compare refresh or as soon as is technically feasible.
CMS also proposes four new Quality Measures for the Skilled Nursing Facility Value-Based Purchasing (SNF VBP) Program (outlined on page 140), the replacement of one Quality Measure, and several policy changes. As such, providers are advised to make sure the following items are included in QA/QAPI reviews:
Nursing Staff Turnover Measure

Discharge Function Score

Long Stay Hospitalization Measure per 100 residents

Percent of Residents Experiencing One or More Falls with Major Injury (Long Stay)

Skilled Nursing Facility Within Stay Potentially Preventable Readmissions (SNF WS PPR)

Number of dual eligible served to qualify for bonus payments proposed potentially.
Q: What updates are proposed for PDPM ICD-10 coding, and how should providers prepare for these proposed changes?
Bovee: On page 43, several proposed changes in PDPM ICD-10 code mappings are outlined. HealthPRO Heritage experts advise providers to understand how these changes will impact current practices. For example, CMS proposes expanded codes for medical management as well as designating RTP codes in order for more specific codes to be used. CMS is also proposing to reassign the 95 codes listed in Table 3 on the CMS website from the current default clinical category on the PDPM ICD-10 code mapping to Return to Provider. Also, certain fracture codes will now be eligible for one of two ortho surgery categories. For reference, the link to these changes is provided here.
Q: How is HealthPRO Heritage supporting clients who are well-prepared for these proposed changes?
Bovee: The HealthPRO Heritage consultants are pleased to provide an exclusive recording that details the upcoming changes and outlines strategies for each of the updated MDS sections. Please find a link to this recording here.
HealthPRO Heritage understands that the upcoming changes to the MDS may require some adjustment to your current strategies. Our team is committed to providing the resources and support needed to succeed. Stay informed! Reach out to teleMDS@healthpro-heritage.com.
Q: In addition to sharing your expert review and guidance for the Proposed Rule for FY 2024, can you share additional updates?
Bovee: Yes, in other important news, CMS has released the updated Advance Beneficiary Notice of Noncoverage (ABN) form that must be used as of June 30, 2023. The ABN Form CMS-R-131 is issued by providers (including independent laboratories, home health agencies, and hospices), physicians, practitioners, and suppliers to Original Medicare (fee for service) beneficiaries in situations where Medicare payment is expected to be denied. The ABN transfers potential financial liability to the Medicare beneficiary. Guidelines for issuing the ABN can be found beginning in Section 50 in the Medicare Claims Processing Manual, 100-4, Chapter 30 (PDF). Additional resources are included here: