What can you do as an individual or on behalf of your organization to stand out amidst a highly competitive industry?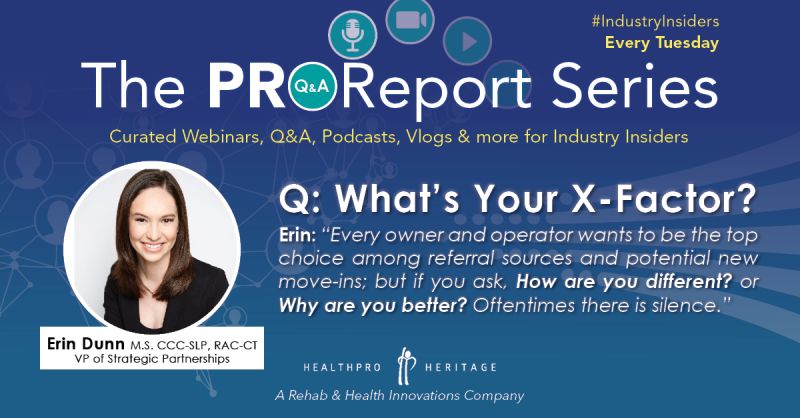 Q: Erin, please define what you mean by X-FACTOR.
Erin: When I think about the X-FACTOR concept, I imagine being in a room with many companies that offer the same services, and the X-FACTOR is what makes your organization stand out among the crowd! It's the answer to What makes you shine? and Why you?
Q: Why is having an X-FACTOR important for senior housing & long-term care owners and operators?
Erin: Having an X-FACTOR serves to define and differentiate you compared to peers. Think of your X-FACTOR as the #1 reason why a referral source recommends your facility or why a new resident chooses (and remains!) in your community. Simply stated, an X-FACTOR fortifies your strategy for occupancy growth and, therefore, long-term sustainable success.
Q: If having an X-FACTOR is so important, why doesn't every organization have an X-FACTOR?
Erin: It's important to note that an X-FACTOR is not created accidentally. It requires discipline, deliberation, and intentional outside-the-box thinking. This can be scary because there is an inherent risk associated with pushing the limits past traditional models. Without risk, however, there's no real reward!
Q: What recommendations do you have for healthcare leaders who seek to identify an X-FACTOR?
Erin: To start, HealthPRO Heritage strategists suggest an honest audit of five essential operational/marketing components: (1) facility priorities, needs, and opportunities to improve; (2) staffing capabilities; (3) recent marketplace changes; (4) shifts in population health trends; and (5) prevalence of managed care payers and progressive care models (e.g., home & community-based services, specialized care and respite stays within AL/IL).
Next, anticipate what's needed and what's next. Based on experience, research (and perhaps support from expert consultants), savvy healthcare leaders must be able to forecast what success looks like in the future.
Finally, innovate! Stretch the boundaries beyond fear of not knowing or not wanting to establish something new. Change, grow, and problem-solve in a way that might not be comfortable.
One more thought: Recognize that your competition has challenges; they also struggle with how to differentiate themselves. As an industry, we are pushing one another to learn, evolve, and ultimately deliver better care and services. The really cool thing is that our residents and patients directly benefit from this dynamic.
Q: Can you provide an example of how your team helped a client define & leverage their X-FACTOR?
Erin: Sure! HealthPRO Heritage was asked to provide therapy services and consult for a beautiful luxury CCRC that was perfect from an aesthetic perspective. Still, the campus was missing an important X-FACTOR: amenities to help residents age and engage in place. HealthPRO Heritage helped develop a respite stay program and set up a suite of curated wellness services, engagement programs, health education, gym supervision, integrated technology to prevent falls, and on-site rehab professionals. Likewise, our support and resources (e.g., marketing analytics, collateral, scorecards, etc.) helped the campus to form partnerships with community PCPs, the local hospital, and home health agencies.
Consider this: Most physicians, care providers, etc., are ready and willing to discuss partnership opportunities because they struggle with staffing and regulatory challenges and need help, too! HealthPRO Heritage empowers our clients to be collaborative and to seek creative solutions via channel partnerships, referral networks, and more. This individualized support requires a distinctively all-in approach to working alongside our clients; I guess you could say that's one of HealthPRO Heritage's own X-FACTOR!
Q: Does HealthPRO Heritage have other X-FACTORS?
Erin: I love talking about HealthPRO Heritage compared to other companies because we have several X-FACTORS. Our team is made up of nurses, doctors, social workers, strategists, QAC experts, financial analysts, and more! The diversity and level of support we deliver for all levels of the senior housing and care continuum are unlimited! Also, there are many companies who talk a great game, but HealthPRO Heritage's X-FACTOR is how well we follow through with executing everything from strategic support to rehab services. Clients count on us to roll up our shirtsleeves to drive outcomes that are important to them. We're also known as a partner who Envisions Everything; this is our adage because we have a passion for transparency, disruption, and innovation and love working with clients who value the same.
Last but not least, the extent to which HealthPRO Heritage invests in their people is one of the company's biggest X-FACTORS. Programs and resources, such as our Emerging Leaders Program, foster learning, innovation, and growth. I'm a perfect example because I started here as a Rehab Director and received support and encouragement to grow into the leadership role I'm in now. As our CEO, John Heller, would say, "HealthPRO Heritage's biggest and best differentiator is our fantastic team."
Learn more about HealthPRO Heritage. Contact us today!