Rehab therapy is a growing industry, which is why Heritage Healthcare believes in supporting various schools throughout the nation who will be training future therapists. In addition to providing industry information, Heritage Healthcare regularly confers with key staff and faculty in order to offer resources and instruction, as well as encouragement to new graduates.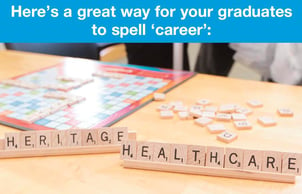 Given the rising demand for therapists, Heritage Healthcare works closely with faculty and graduates to provide clinical affiliations to students across all disciplines. They also assist with the transition from an academic atmosphere to a first job. Heritage Healthcare recognizes the importance of nurturing students who are looking for a career with rewarding opportunities in rehab therapy.
To learn more about Heritage Healthcare, visit our website at www.heritage-healthcare.com or call Leigh Ann Frick, VP Clinical Services at 877.508.3237, ext. 113.