The CAHPS Home Health Care Survey (HHCAHPS) was implemented by CMS in 2009 to measure experiences with home health surveyors. The survey has three objectives producing comparable data on the patient's perspective in order to make meaningful comparisons between agencies, incentive improvements to the quality of care through public reporting, and enhance public accountability in health care with increased transparency.
The HHCAHPS includes a core set of 34-question survey and allows home health agencies to customize additional questions to support internal customer service.
The HHCAPS survey accounts for 30% of a home health agency's total performance score (TPS) under value based purchasing. The Value Based Purchasing (VBP) model has a maximum ± 5%, creating a direct link between financial success and HHCAPS scores for home health agencies.
As the saying goes, "there is no second chance to make a first impression," so let's break down the HHCAHPS to analyze how home health agencies can master their scores. CMS groups the HHCAHPS measures by topic into three composite measures and two overall measures. CMS publicly reports the HHCAHPS measures, and they are called "patient survey results" on the Care Compare website.
The five measure areas are: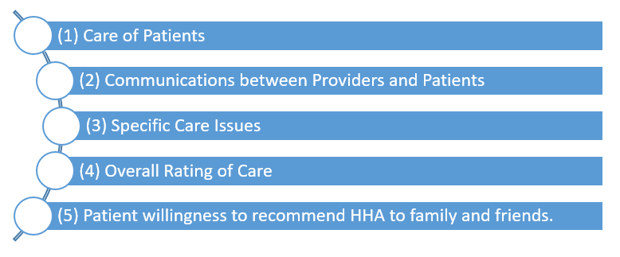 The first step to success with the HHCAHPS is improving the response rate. Most agencies struggle with getting survey results from all their patients, let alone favorable results. Agencies must rethink their strategy when it comes to the HHCAHPS Survey and begin to set the table from day one of patient care. First, every home health agency should strive to make their patient experiences an important part of their agency culture. Customer care should be at the top of their list daily.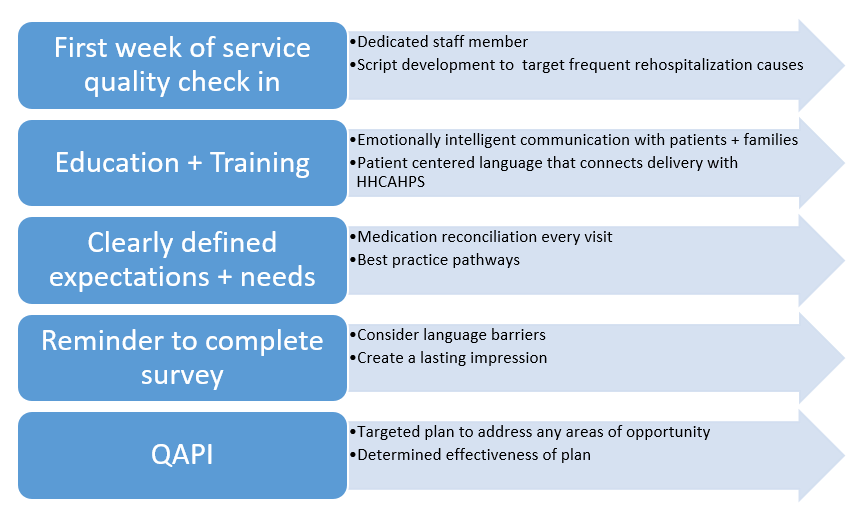 Here are a few examples of agencies struggling for response and requiring a change in process to improve their HHCAHPS scores:

Reach out to HealthPRO Heritage at Home at homehealth@healthpro-heritage.com for competitive analysis. For more information on the HHCAHPS measures and the HHCAHPS survey, visit https://homehealthcahps.org/.
HealthPRO Heritage is committed to clinical excellence, with an accurate reflection of excellence on quality measures, HHCAHPS surveys, and claims data. How is your agency supporting clinical excellence? Are you supporting your team with education and tools for success? HealthPRO Heritage prioritizes staying ahead of regulatory changes and establishing a standard of enhanced training. We incorporate regulations, and best practices learned directly from the experts, such as the MAC Collaborative Summit, recently attended by the HealthPRO Heritage at Home management team. Value Based Purchasing success requires agencies to connect the dots in all areas of their care. HealthPRO Heritage can take your agency to the next level.