For 15+ years, HealthPRO Heritage at Home has served the therapy needs of home health agencies who have counted on us as a trusted partner to address the challenges and opportunities unique to home health.
As the industry navigates changes brought by PDGM and COVID-19, HealthPRO Heritage at Home is well prepared to support partners with meaningful guidance and sophisticated resources that fortify operational success, financial growth, and clinical excellence, including:
Timely initiation of care;
Submission of documentation within 24 hours of care;
Accurate functional scoring with every evaluation and discharge (OBQI);
Collaborative care between clinicians (including agency clinicians);
Ongoing infection control education and PPE (personal protective equipment) availability;
Expansive coverage area;
Responsive customer service;
Strategic partnership philosophy in proactive support of agency's clinical, operational and fiscal goals; and
Outcomes-driven clinical pathways.
Our tailored home health care service model provides therapy care and robust agency support. HealthPRO Heritage at Home assure optimal reimbursement, excellent star ratings, and outcomes through five strategic solutions: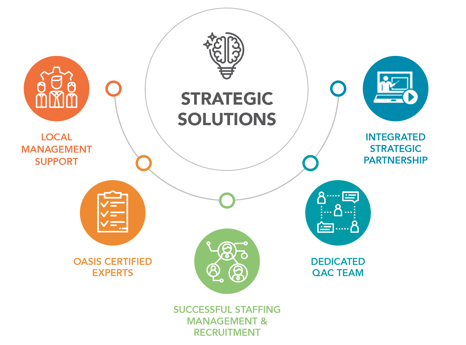 LOCAL MANAGEMENT SUPPORT

Promises responsive customer service.
Consistency/retention of staff as a result of local orientation, ongoing education for clinicians.

OASIS CERTIFIED EXPERTS


Assures accurate OASIS scoring when completing any OASIS documentation.
Agencies provided with OBQI form at each assessment time point.

SUCCESSFUL STAFFING MANAGEMENT & RECRUITMENT

Provides highly skilled clinicians via ample recruiting resources well-qualified to assist an agency's growth strategies.
Consistency of care as a result of high employee retention rates.

DEDICATED QAC TEAM

Provides quarterly chart audits with direct education to clinicians.
Staff is consistently supported with ongoing training on pertinent topics.

INTEGRATED STRATEGIC PARTNERSHIP

Willingness to participate in QAPI and case conferences.
Use of analytics to assist in development of marketing plans.
Continual support of agency growth initiatives.
Click here for full printable document.