HealthPRO Heritage is eager to share meaningful, optimistic outcomes amidst a critical time.
As we approach the 1-year anniversary of the PDPM implementation, many continue to struggle with COVID-19 related challenges. Despite the circumstances, HealthPRO Heritage is proud to report outcomes that reliably demonstrate What's Possible: Impressive upward trends in clinical efficacy and business partnership outcomes.
See What's Possible. Review FIVE key cross-sectional outcome measures that are truly unique only to HealthPRO Heritage.
1. Under PDPM…Patients Win!
HealthPRO Heritage reports impressive trends in our patients' functional outcome scores since the transition to PDPM.
After a dip in October 2019, outcome scores immediately rebounded and remained just as strong month over month post-PDPM. Results are the same for both in-house therapy teams (where consulting, or management oversight is provided) and for partnerships where therapy services are fully outsourced.
According to Jonathan Thoupos, Vice President, Strategic Projects, "The 11 months of data validates that our custom-built Clinical Utilization Pathways have been effective in guiding our clinicians to choose the right therapy intensity to yield optimal patient outcomes."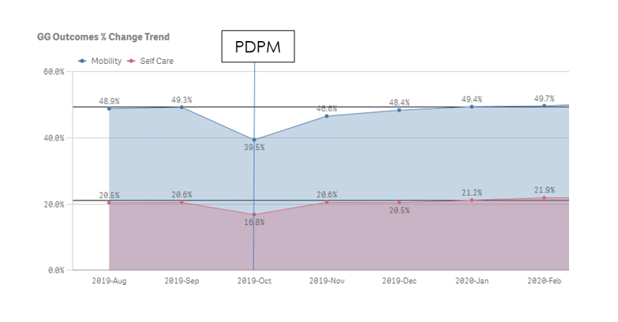 Questions Worth Asking: "How have patient outcome scores at your community changed since October 2019? Are GG scores trending up or down? If so, why?
2. Even Better…Despite the Odds
Amidst the chaos of the COVID-19 PHE, even better patient outcomes are possible according to HealthPRO Heritage data. Despite the many challenges related to the pandemic, HelathPRO Heritage functional and performance outcomes have trended upwards since the onset of the PHE in March. Hilary Forman, Chief Clinical Strategies Officer explained during a recent episode of The PROReport (titled Science + Experience from the Front Lines)

"Our outcomes under COVID-19 are even better, because therapists are looking at patients more holistically, and delivery has been more individualized. As frontline clinicians, we've learned to see challenges as opportunities; we pivoted quickly to do things differently, and residents got better! It's not what people expected to hear, but we have a great story to tell. If we maintain a positive attitude and our approach to working as a team, then we will get the good outcomes every time."

Questions Worth Asking: "How have patient outcome scores at your community changed since March 2020? Are GG scores trending up or down? Are Quality Measures trending up or down? If so, why?
3. LTC & Senior Living Providers See Value in Consulting & Therapy Partnerships!
Survey results captured in July/August 2020 from our current partners noted HealthPRO Heritage earned an impressive 79 Net Provider Score (NPS), proving that LTC and Senior Living operators see value in enlisting the support of therapy and/or consulting experts. (The Net Promoter Score is used to gauge the loyalty of a firm's customer relationships and serves as an alternative to traditional customer satisfaction research. Survey respondents answer the simple question: "On a 0-10 scale, how likely are you to recommend a company to a colleague?" For reference, compare the NPS for other well-known national companies -- such as Apple, Amazon, Verizon and Tesla – here.)
HealthPRO Heritage's Chief Operating Officer, Jim Rogerson reflects on this year's NPS, "The feedback reaffirms how important it's been for our clients over the past 6 months to have the peace-of-mind and expertise that comes with a trusted partnership."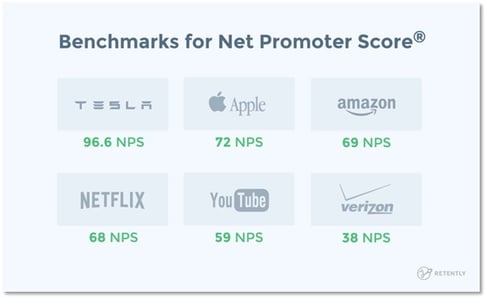 Questions Worth Asking: How likely are you to recommend your business affiliates / partners to your peers? Would you rate your contracted therapy partner more/less than 7/10, and why? Do you see advantages in collaborating/partnering with industry business affiliates for short and/or long-term support & resources?
4. Distinct Difference in Star Ratings for Partnership-Minded LTC Providers
It's not a coincidence that LTC providers who are partnered with HealthPRO Heritage are more likely to earn above-average Star Ratings. Signposts – such as consistently high QMs, star ratings, and performance measures – indicate there is indeed value for SNF operators to rely on the expertise, strategy and resources available from outside consulting/therapy teams.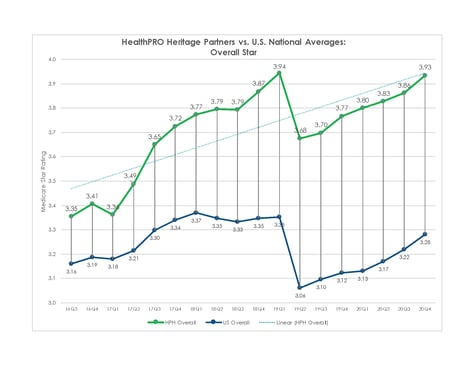 Questions Worth Asking: What did / do you need to execute on to achieve or maintain above average Star Rating? Is there need to seek support outside your organization?
5. Staffing is a Challenge, But Solutions Exist
HealthPRO Heritage's below average attrition rate demonstrates that -- by implementing specific retention strategies – staff are receptive to initiatives and investments that promise to bolster engagement and assure safety. Specifically, HealthPRO Heritage continues to offer extensive + relevant training and meaningful resources to assure our staff that their safety (as well as their families/loved ones) remains a top priority. Learn more about HealthPRO Heritage's Pledge to Staff during the COVID-19 pandemic here.
Questions Worth Asking: How have you invested in your interdisciplinary team? Does staff feel safe and well-prepared to overcome daily and long-term challenges?
What other optimistic outcomes are communities like yours reporting out on? What specific goals do you and your leadership teams have for 2021 & beyond? Don't hesitate to reach out to peers + associations + HealthPRO Heritage with ideas to inspire a brighter way forward! Contact us: info@healthpro-heritage.com