Speech therapy and ABA (Applied Behavior Analysis) and are both recommended and effective therapies for treating children with Autism Spectrum Disorder. Often times the therapies are complementary with each other and many children diagnosed with Autism receive services from both types of providers.
What is Speech Therapy?
Speech therapy is the evaluation and treatment of communication disorders in order to improve a child's ability to understand and express language. Speech therapy focuses on improving speech sound production, social communication, language, fluency, and swallowing (and much more!). Speech therapy sessions typically occur once to several times per week for 30 minutes each.
What is ABA?
ABA therapy is based on the science of human behavior and how people learn. Interventions are based upon the principles of learning to improve meaningful, socially significant behaviors. ABA focuses on improving communication and social skills while reducing or replacing restrictive and repetitive behaviors and is also useful when teaching daily living skills, play skills, and independent skills. ABA is typically done in an intensive manner for up to 40 hours per week.
What are the Similarities + DIfferences?
Speech and ABA share many similarities in the areas that they focus on during therapy, and it can be confusing to determine what the differences are and therefore why both therapies are important to a child's skill growth. The diagrams below give examples of skill areas that an ABA or Speech program can benefit as well as areas that overlap between both therapies across different key domains, including: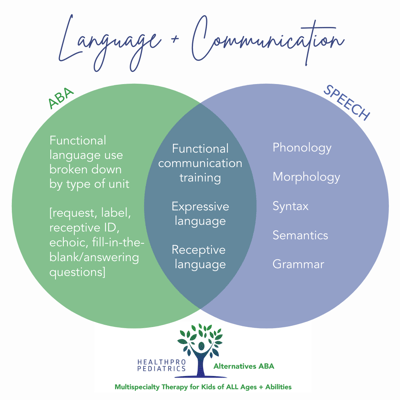 .
---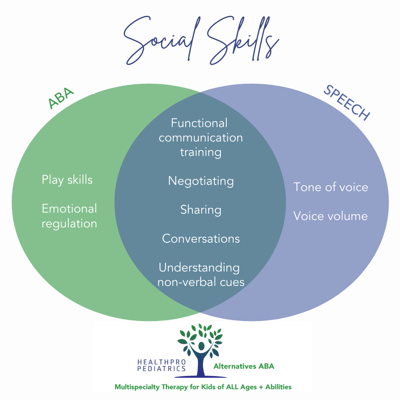 ---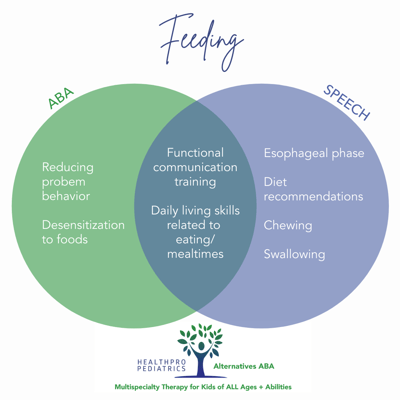 ---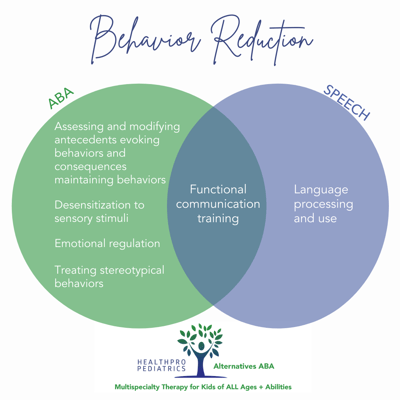 ---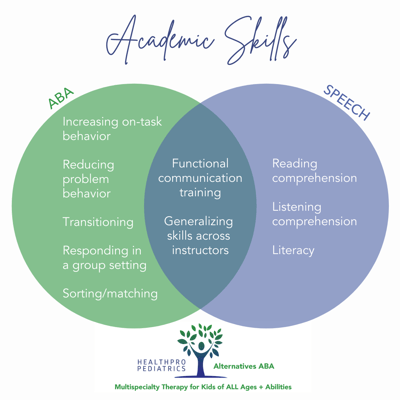 ---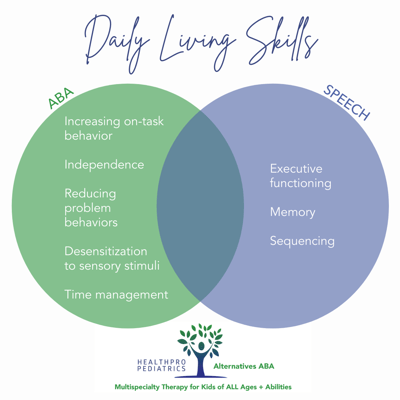 Speech + ABA: A Collaborative Approach
As the diagrams above show, there are many areas in which speech and ABA overlap and many areas that they differ. Including both ABA and speech in a child's care will allow for a more comprehensive approach to treatment compared to choosing one therapy over the other.
HealthPRO Pediatrics and Alternatives ABA collaboratively offer ABA + speech therapy services in an outpatient clinic setting treating primarily children who have been diagnosed with autism. Because all services are provided under one roof, providers are able to be in continual communication with each other about progress, goals, and approaches. ABA providers can attend speech therapy sessions which will allow both providers to observe respective strategies and carry over those strategies and goals into their respective sessions.
Speech therapists can help the ABA provider understand typical speech sound development and assist with prompting strategies to prompt articulation of words that are then functionally taught during ABA sessions. The speech therapist can work collaboratively with the ABA provider to help determine an appropriate alternative method of communication if vocal language is not the child's primary method of communication. Speech therapists can also work on teaching chewing and swallowing skills as well as progressing the child from liquid to solid foods prior to the child entering an ABA behaviorally-based feeding program.
Alternatively, an ABA provider can help the speech therapist understand behavior management strategies to ensure that speech therapy sessions are as productive as possible by reducing interfering maladaptive behaviors. The ABA provider can assist the speech therapist with determining effective and efficient instructional approaches, how to appropriately motivate the child to engage and remain on task, and how to implement effective reinforcement strategies.
Finally, it is extremely important that all providers on the child's treatment team take a collaborative approach to ensure that there is consistency of care across all providers especially when it comes to teaching within the areas in which both providers overlap. For example, both providers will work on strengthening the child's functional communication skills. If one provider requires the child to use 1-word requests and another provider requires the child to speak in full sentences, the child may not progress in either skill as quickly as if both providers had the same requirement. Another example would be if one provider requires the child to communicate vocally and the other provider requires the child to use an AAC device, the child may be confused and frustrated resulting in slower language gains and increased maladaptive behavior.
Collaboration and communication across all providers are proactive ways to ensure that the child can grow into their maximum potential and improve their quality of life. When we take a team approach – the child, their family, and the providers – everyone wins!
---
Author: Catherine Czerwonka, MA, BCBA
Catherine was born and raised in Massachusetts and lived and worked in Florida for 10 years after obtaining her Master of Arts degree in Applied Behavior Analysis at the University of South Florida. She has held multiple management and operations positions within an organization in Florida while continuing to provide direct care to the clients she supervised.
In addition to her passion for working with children who have a diagnosis of Autism Spectrum Disorder, Catherine also has strong interests in Acceptance and Commitment Therapy and applying the ABA principles to health, sports, and fitness goals. Outside of work, Catherine enjoys being active outdoors, traveling, and spending time with her dogs and cats.

---