R

ISE Senior Living, by HealthPRO Heritage: A Sophisticated Therapy & Wellness Services Partner for Assisted & Independent Living & Memory Care Providers.
For more than a decade, HealthPRO Heritage's Senior Living Division (now, Rise Senior Living) has partnered with Memory Care, Assisted Living, and Independent Living communities to optimize residents' quality of life and strategically drive robust campus-wide success. We now serve over 400 Senior Living communities across the nation, bringing expertise and passion to help produce great outcomes for our community partners and their residents.
RISE Senior Living's suite of clinical, concierge, wellness programming and resources are proven to promote successful resident aging-in-place. A sophisticated approach, driven by market analytics combined with proven clinical programs and strategies to build census and occupancy uniquely supports customers in creating local market success.
A Higher Calling
At the heart of RISE Senior Living is a talented, dedicated team that goes "above and beyond" to provide extraordinary care at multiple service levels, including Medicare Part B therapy, outpatient and home health rehab, fitness services, palliative care, wellness and more! Staff are proactive problem-solvers, passionate patient advocates, data-driven warriors, whole-person wellness architects and innovative forward-thinkers with a proven ability to consistently deliver quality outcomes.
Clinical Expertise
What is Ageless Abilities?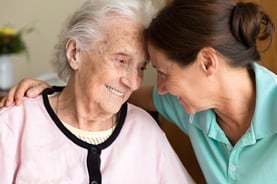 Because many residents in senior living communities have some degree of dementia, our industry bears a responsibility to deliver innovative solutions for persons living with dementia and their dedicated caregivers. RISE Senior Living is prepared to support your community's efforts through our ageless abilities program.
Ageless Abilities is a highly specialized, proprietary clinical program guided by certified RISE Senior Living clinicians. Physical, occupational, and speech therapists are trained to recognize, understand and treat the challenges facing residents in early, middle, and late stages of Alzheimer's and dementia to provide resources, tools, training, and support to effectively utilize:
Special interview techniques to define a resident's individualized profile of life experiences, interests, and past roles
Evidence-based stages of dementia scale to properly assess/anticipate resident needs and match demands to skill level
Evaluation skills to assess internal and external environmental factors that contribute to successful engagements/therapy interventions (vs. risking increased agitation, withdrawn behavior, restlessness & wandering)
Solutions-focused application of clinical expertise to recommend strategies for enhancing positive engagement
Education, health literacy, and training resources to support caregivers and loved ones
Therapy Specific Strategies
As the disease process progresses, our therapists leverage Ageless Abilities to:


To learn more about RISE Senior Living's resources and expertise to stimulate significant health and lifestyle improvements, helping your residents age in place safely and with dignity, complete the form at the bottom of this page.
What is Defying Gravity?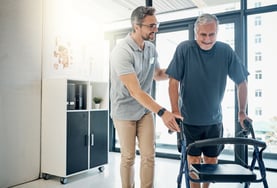 Developed by RISE Senior Living clinical experts, Defying Gravity is a comprehensive program to identify fall risks and proactively prevent falls. Different from many traditional fall and balance programs, Defying Gravity offers strategies/tools to directly:
Address the root cause of balance impairments
Execute on meaningful, holistic solutions to mitigate physical and cognitive fall risks

Processes for Risk Identification
Cross-functional communication via tools, meetings, lectures, grand rounds
Standardized tools to assess baseline, uncover root cause(s) of balance disturbances

Skilled Interventions to Impact Functional Performance
Reduce in/extrinsic factors and address "Core Factors of Balance"
Train/empower IDT to ensure collaborative approach & carry-over
Standardized tools to assess progress of interventions

Set Goals and Sustain Outcomes
Train IDT to watch for status changes
Monitor/report functional outcomes & performance measures
(Re)Evaluate fall policies
Focus on safety; transition to optimal level of care and wellness

To learn more about how RISE Senior Living therapists capture, monitor, report, and leverage functional gains and performance measures in their customization and implementation of Defying Gravity, complete the form at the bottom of this page.
What is Safe Transitions?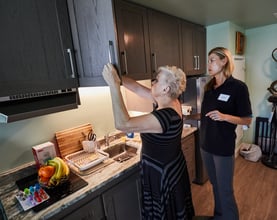 Our Safe Transitions clinical framework improves patient experience, minimizes the risk of rehospitalization, optimizes length of stay, and accelerates relationships with downstream providers. Embracing the philosophy discharge planning begins on admission, our patient-driven model offers:
Clinical programs that support patients' needs and goals for discharge
Processes to define collaboration and timelines to meet LOS expectations (defined by network partners, conveners, ACOs)
Use of home assessments to ensure meaningful outcomes (safety, functional abilities)
Comprehensive patient/caregiver education throughout plan of care and beyond

To learn more about RISE Senior Living's progressive, multidisciplinary team of clinicians and the support and education they provide with your residents' safety in mind, complete the form at the bottom of this page.
Why a Wellness Program?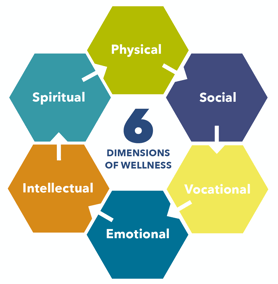 A proven wellness program is critical for senior living communities to offer residents to ensure successful aging and to maintain or improve independence. Our HealthyLiving, wellness program keeps your residents thriving and engaged with a variety of vibrant activities that spark interest, offer educational opportunities, and resident fulfillment. Grounded in the 6 Dimensions of Wellness, HealthyLiving promotes optimal health in body, mind, and spirit.
Discovery Series – An educational program helps senior living residents stay healthier, more active, and confident in their ability to enjoy life. Educational series are taught in a variety of methods, including lectures, active demonstration and clinics. Our resource library targets health concerns before they become problematic.
Health Literacy Series – Health literacy programs provide education around management of chronic medical conditions on an on-going basis, critical for mitigating hospitalizations and rehospitalizations.
Comprehensive Health and Wellness Assessment – Multi-dimensional assessment is comprised of ten standardized tests to support the on-going individual needs of residents, allowing for a smoother transition within the community and ensures successful aging in place, while establishing a baseline of function for individualized needs and summarizes the resident's fall risk, balance, pain and transfer ability.
HealthyFIT – Customized wellness programs to encompass any combination of the 6 dimensions of wellness, focuses on providing one-on-one in person, group and/or virtual exercise activities to assist in maintaining the current level of function anytime residents need assistance with maintaining or increasing their current level of function. Frequency and intensity of training are determined by the resident and developed and implemented by licensed therapists.
Outcomes – HealthyLiving provides trended data based on the wellness outcomes tracking system. The outcomes are tracked by a management database and measures how well the HealthyLiving wellness program is being used and what value it brings to your residents. This benchmarking system provides outcomes that are community, setting and/or resident specific.

Click here to learn more about RISE Senior Living Wellness programming options or complete the form at the bottom of this page.
Have questions or want to learn more about senior living solutions? Fill out the form below and one of our RISE Senior Living experts will get in touch with you.