Beyond PDPM. Beyond Therapy. Beyond Ordinary.
We've PREPARED for the transition to PDPM and have been helping partners EXECUTE on key competencies. Now it's time to SUCCEED with support from our robust PDPM therapy & IDT resource models. We've raised the bar on traditional expectations of what it means to be a partner.
Check out our comprehensive resources below – focused on strategy, education, and expedited execution for PDPM & Beyond!



Value-Based Purchasing (VBP): Where Do You Stand?*

VBP & RoP (Requirements of Participation) Strategy and Collaboration*

PDPM Workflow Rewind*

Education Modules from PDPM U*: Strategy & Financial Implications of PDPM • Deep Dive into

Nursing & NTA Components • Deep Dive into

PT, OT & SLP Components •

Nursing Documentation Under PDPM •

The New Clinical Meeting •

ICD-10 Mapping •

Collaborative & Effective Restorative and Activities Programming •

Billing Under PDPM

PDPM: Financial Considerations & Opportunities. Co-presented with CLA
ICD-10 Coding Strategies + Solutions = PDPM Success! Co-presented with himagine

Top 10 PDPM Myths Busted! Co-presented by Skilled Nursing News & Optima Healthcare Solutions. Panelist - Hilary Forman, HealthPRO® Heritage's Chief Clinical Strategies Officer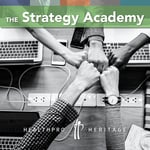 Search "The Strategy Academy with HealthPRO Heritage" in podcast apps
Topics include: TeleMDS Clinical Reimbursement Launch •

Isolation Coding •

RAI Manual Updates
Looking for a partner to educate and guide your community beyond PDPM?